Why a Sewer Scope Inspection
Sewer Scope Inspections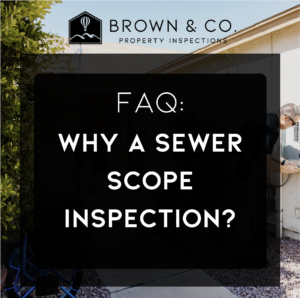 What Is A Sewer Scope Inspection?
A home inspector performs a sewer scope inspection by threading a long, flexible camera into the home's plumbing drain in order to identify any leaks, broken pipes, blockages or other serious issues. Video from the camera is transmitted to a screen for viewing by inspector and is also recorded for the homeowner to see within the report. If any potential issues are observed, a licensed plumber is recommended to perform a thorough evaluation and provide a quote for repair.
Why A Sewer Scope Inspection?
A sewer scope inspection is performed in order to get a complete understanding of the home's overall condition and to identify issues that can cause financial and safety-related hardship in the future. It is wise to consider a sewer scope inspection if:
Home is greater than 20 years old
Large trees in the yard 
Evidence of pest control issues
Random patches of green grass
Evidence of mold 
A foul smell
Evidence of improper drainage such as frequent clogging and overflowing
Common Issues Found With A Sewer Scope
Tree root invasion
Improper plumbing materials, such as Orangeburg
Blockages or accumulation of debris
Broken or damaged pipes
Improper installation of plumbing
Check out this 12 News Article & video recently published regarding the use of Orangeburg piping throughout the valley: CLICK HERE
Safety & Financial Implications
There are numerous concerns related to a broken or damaged sewer pipe:
Pests can enter the home through cracked or broken pipes
Mold growth
Harmful sewer gasses can seep into the home
Water from a broken sewer line can contain bacteria & viruses
Sewer line maintenance and repair can cost thousands of dollars
Please let us know if you would like more information about sewer scopes or if we can add one to your property inspection. Follow us on IG for more tips & tricks regarding home maintenance, home buying and more @brownandcohomes. 
https://d135bwp39dz3xa.cloudfront.net/wp-content/uploads/sites/145/2021/09/08025435/logo-updated.png
0
0
brownandco
https://d135bwp39dz3xa.cloudfront.net/wp-content/uploads/sites/145/2021/09/08025435/logo-updated.png
brownandco
2022-09-21 18:35:17
2023-02-10 17:00:06
Why a Sewer Scope Inspection