Your Home Inspection Questions, Answered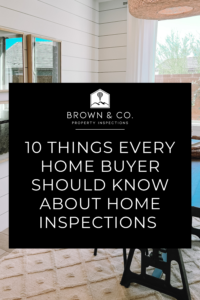 So you've found the home of your dreams, put in an offer, and it was accepted! Congrats! So, now what? Chances are, you've invested a lot of time and energy to get to this point. The next steps can seem daunting, especially if this is your first home purchase. Assuming this is a typical home buying experience, you now have 10 days to have the home thoroughly evaluated by a licensed home inspector. So what can you expect from a home inspection? Here are 10 common questions, answered by an expert home inspector:
1. Are home inspections necessary?
In today's competitive housing market, buyers are facing bidding wars and getting creative about making their offer stand out. In order to make their offer appear more 'hassle-free', some have eliminated the home inspection process altogether. However, a home is one of the largest purchases a person can make in their lifetime. Moving into a home with hidden safety and financial burdens could be devastating to a buyer for years to come.
If waiving a home inspection is your only bargaining tool, many home inspectors will be happy to do an abbreviated 'walk through' inspection prior to submitting an offer. Just keep in mind that this will not be as thorough as a typical inspection.
The gold standard is a thorough, complete home evaluation by a trusted and certified home inspector.
2. How to pick a home inspector?
There are many different types of home inspectors in the industry. Most inspectors have construction experience prior to becoming licensed in their state. However, as with any industry, you have those who are inexperienced or do the bare minimum and those who go above and beyond to become an expert in their industry. Your real estate agent may provide a few names, but it is wise to do some research of your own. The internet is typically your best friend in this case. Here are a few things to keep an eye out for while researching:
Look for an inspector who is certified above and beyond what their state licensure requires. There are 2 major certifying bodies; InterNACHI and ASHI. Both are excellent and require high-level testing to become certified, as well as continuing education to maintain proficiency. This credential reflects an individual who actively pursues professional growth and has proven their competence within the industry.
Check reviews for that inspector. Review comments for descriptors such as thorough, on time, professional, and willing to answer questions even after the home has closed. Testimonials about how the inspector met their clients needs are a good indicator of their services. Also note how they respond to negative reviews.
Reach out to the inspector and ask questions. Ask questions about how detailed they are- for example, an inspector should physically walk the roof and get into the attic whenever possible. Also, ask if they use modern tools and technology, such as thermal imaging cameras to identify leaks or missing insulation, sewer scopes to check out plumbing pipes, and high-quality reporting software that makes it easy for you and your agent to read the results.
3. How to schedule a home inspection?
A home inspection is scheduled immediately after the offer is accepted and the home is under contract.. This can be done over the phone or online, depending on the inspector you choose. Take note of how responsive your inspector is and how easy it is to communicate with them. This is a good indication of how valued your business is and how the remainder of the inspection process will go. Good inspectors will usually give you an idea of what to expect and communicate with both agents in order to avoid any lock box, pricing or scheduling conflicts.
4. How long does a home inspection take?
A home inspection usually takes 3-4 hours, depending on the size of a home. For very large or very old homes, it can take up to 6 or more hours. Your inspector should communicate this to you during scheduling. BEWARE of an inspector who takes less than an hour. This will not be a thorough inspection, even for the smallest of properties. Some larger companies will pressure inspectors to fit 4 or more inspections in during a day- there are too many working components of a home for any standard inspection to be done this quickly (TIP: feel free to ask this when scheduling as well!).
5. What is a home inspector looking for?
An inspector will look at all components of a home. Check out what we are looking for at Brown & Co. Here is a great infographic from our friends at Spectora:
What's Included in a Home Inspection – An infographic by Spectora
6. How much does a home inspection cost?
A home inspection is paid for by the buyer and usually starts between $300-$400. This amount is not included in closing costs or any other financing for the home. Home inspectors usually charge a starting rate up to a certain number of square feet and increases from there. Additional services can be added such as a termite inspection, sewer scope, pool & spa, mold, radon, etc. A final price should be calculated during scheduling. The results of the home inspection are provided to the buyer and their agent by the inspector, but can be shared between agents during the negotiation of findings.
7. Who can be at a home inspection?
The buyer and buyer's agent are welcome to attend the inspection at any time. The seller and seller's agent are sometimes there, which is their right, but most choose to vacate the property during this time. The best course of action is to let the inspector focus on evaluating the house for the first couple of hours and then decide on a time toward the end of the inspection so he/she can summarize their findings, show you the report and/or walk the property with you. Be sure to catch our next post on questions to ask your inspector during this review process.
8. What does a home inspection report look like?
The type of home inspection software your inspector uses is important. Some old school inspectors will still use a paper & check box system of inspecting a home. The latest and greatest software (for example, our friends at Spectora) allows the inspector to efficiently record and take photos/videos of their findings to enter into the report in real time. The final product should be color coded and easy to understand. Spectora even offers a tool to help your agent compile requests for the seller. Take a look at the inspector's website on different devices for hints as to how tech savvy they are. Check out our Brown & Co Sample Report to see what our reports look like!
9. What to do with the home inspection results?
A home inspection report can look overwhelming at first. Even a newer home can sometimes have 50+ items noted by the inspector. A home is full of disposable parts and appliances that will at some point need repair or replacement. However, not all of these items are deal breakers or financial liabilities. Typically, if an inspector notices, for example, a roof defect, he will describe the issue and recommend further evaluation by a roofing contractor. This is where the communication and demeanor of your inspector is imperative, as well as the organization and readability of their report. Being able to discuss each item, ask questions, and understand the implications will make your future decisions much easier.
As a buyer, it is your responsibility to understand items in the home inspection report and then determine if it is acceptable or not. There is no passing or failing a home inspection. At this point, your agent can help with negotiating purchase price, request additional funds to help pay for the repair, request the seller to repair it themselves, or simply walk away and keep looking for properties.
10. What if the home inspector misses something?
Home inspectors are human, just like everybody else, and there are a lot of working parts to evaluate. Also, it is possible that not every issue will reveal itself during an inspection. Other circumstances that could lead to this scenario is if the seller has a large amount of clutter, especially around doors, windows, under sinks, in garages or overgrown yards. Home inspectors should not, do not, and will not move other's belongings for courtesy and liability reasons. This is yet another reason you need an inspector who is communicative and can answer questions, even after you move into the home. If an item is legitimately missed, you want someone who will standby their work and help you resolve your problem.
At Brown & Co Property Inspections, we are committed to helping buyers, sellers, agents, and fellow inspectors navigate the inspection process as smoothly and with as much knowledge as possible. Follow us on Instagram @brownandcohomes for the most up to date information and feel free to ask us questions as well! We love hearing from you and providing valuable information to you all. We are all about Peace of Mind, Elevated.
https://d135bwp39dz3xa.cloudfront.net/wp-content/uploads/sites/145/2021/09/08025435/logo-updated.png
0
0
brownandco
https://d135bwp39dz3xa.cloudfront.net/wp-content/uploads/sites/145/2021/09/08025435/logo-updated.png
brownandco
2022-01-14 13:32:07
2022-10-20 18:32:40
Your Home Inspection Questions, Answered